Starco, also known as Marar, is the romantic pairing of Star Butterfly and Marco Diaz.
About
In the episode "Blood Moon Ball", Star and Marco's souls were joined under the light of the Blood Moon, which, according to demon lore, "selects two lucky souls, binding them together for eternity in its hypnotic, ruby brodum." Episodes "Sleepover", and "Bon Bon the Birthday Clown", both confirmed that Star has a crush on Marco, but Marco doesn't seem to reciprocate her feelings. Additionally, Star became extremely jealous when Marco and Jackie went on a date in "Bon Bon the Birthday Clown" to the point where her spells went out of control, further showing Star's true feelings for Marco. Then after that in "Starcrushed", Star confesses her crush to Marco after Toffee returns but Marco doesn't have a chance to respond before she flees the room, so his thoughts are currently unknown. He goes to Mewni to find Star as she went back to Mewni and he helps in the battle against Toffee. After that, Marco returns to Earth as he and Star part ways. In the following episodes, Marco comes to live on Mewni after not being able to adjust to life back on Earth and let Star go. In "Sophomore Slump", Jackie sees him still being attached to Mewni and breaks up with him, realising that his friendship with Star is more important than their relationship and that he would be happier in Mewni than in Echo Creek.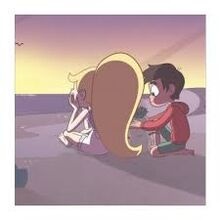 In "Lava Lake Beach", after having a talk with Tad, Marco realises that he has feelings for Star, but feels that he may be too late because Star is in a relationship. After the events of Lava Lake Beach, Star and Marco's friendship is seen to come to a strain. In "Booth Buddies" Marco relents and explains that the real difference between the past and present photos is that the past photos were taken before Star's confession in "Starcrushed". Despite his efforts to not think about it again, he says he can't keep pretending things aren't different now. Star is unsure what he means, but when he says things are different for him specifically, Star realises he's now confessing his feelings for her. They sit in silence before joking about how their guts feel, and Marco admits he feels better having talked about it. With the money they have left, Marco says he knows what kind of photo the booth wants. In the final reel, Marco turns to look at Star, she returns his gaze, and they kiss, meaning that Star has cheated on Tom. At the end of the episode Star is shown quickly grabbing the reel of photos which shows Star and Marco's cheeks are glowing. As the episode ends the Blood Moon is shown in the sky symbolizing their bonding of their souls. During the live chats, after having fans using the term Starco, due to Star and Marco unaware of the term, the pair believes that "it's probably just a way of putting our names together so it's faster."
Towards the end of Season 4, Star and Marco's relationship is taken to a whole new level as they face new challenges in the face of both of them being aware of their feelings for each other. After "Curse of the Blood Moon", Star realizes that her feelings for Marco weren't caused because of the Blood Moon Cure but instead were her own true feelings. After Star and Tom break up Star takes up an opportunity to be open with her future relationship with Marco in the episode "Here to Help". Star remembers Marco's confession of love to her when they were in the Realm of Magic and brings it up, which opens up the conversation to which Marco reveals he has been in love with Star since they first met. After they each confess their love for each other, they share their first genuine kiss since "Booth Buddies" and become a couple for the first time in the show's history.
Starco Moments
These moments include some subtle moments such as hugs and compliments but can be interpreted as romantic interest: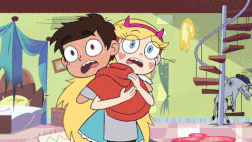 Canon Probability
While it seems likely for Starco to be canon, it is safe to say these two have and will sustain a healthy friendship to some degree, no matter their relationship status. Regardless of all the ship teasing the show and the creators still like to throw at the fans, there is hope to believe that these two could become more. Now that Jackie has broken up with Marco, he is single again. There is also the inclusion of the Blood Moon in many episodes. Although the curse has been broken, it has teased at Starco for a lengthy time now. Although the relationship with Tom and Star put a snag on the ship, there's reason to believe Star's feelings for Marco are still unchanged, as to her using Tom as a way to get over her crush at the idea that he will never feel the same. Especially since Star and Tom broke up in Sad Teen Hotline, a new possibility for canon Starco has opened. The way Star acted towards Marco when he came to Mewni could only make sense if she still had feelings for him. She pushed him away to be a laundry squire so she could try and forget those feelings in peace, but after realising Tom won't be the same as Marco, she made Marco her squire so they could go back to the way things were and just hang out as friends, and Marco being her squire made it so Star had control of Marco's actions and ensure that she would not feel emotionally hurt again. Although fans are disappointed in yet another love triangle, there's reason to believe that this is necessary and that we will now be one step closer to a romantic pursuit between them. In the episode Monster Bash, it is shown that Tom and Star are spending less and less time together, ending in their breakup. Furthermore, in Booth Buddies Marco revealed his feelings to Star and at the end of the episode, they shared a kiss, still dealing with the after-effects of it. Also, when Marco confessed to Tom in the Season 3 finale of him kissing Star, he surprisingly didn't erupt into a fit of rage but instead took it well and even hugged Marco and Star at the end of the episode. This could be seen as him becoming more mature and accepting the fact that he will no longer be in a relationship with Star (as of Sad Teen Hotline they are broken up) but still would be on good terms with both her and Marco. Small things, such as Star suggesting their feelings weren't from the Blood Moon Curse, point to the possibility of Starco. Especially with Marco's confession to Star in Mama Star, it seems that Starco has great possibility to be the main endgame ship of Star vs. the Forces of Evil. With the most recent episodes, Star and Marco are now a canonical couple by the end of "Here To Help" and their relationship as a couple so far is overwhelmingly positive with the sheer closeness that they shared in the next few episodes.
Starco Gallery
Click here to view full gallery